Flavours & Sensory Workshop on Alternative Protein Sources For Food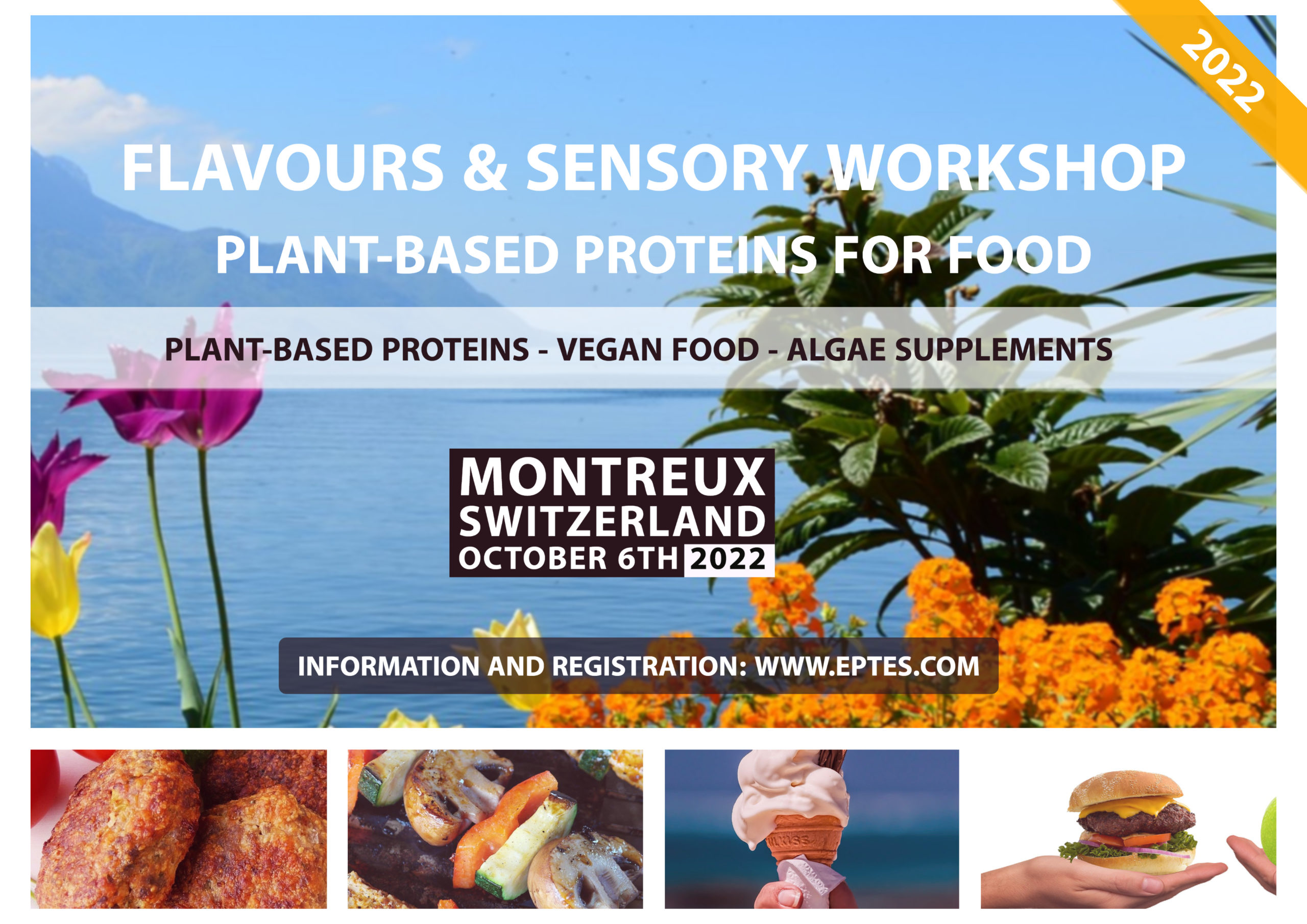 FLAVOURS & SENSORY WORKSHOP
ALTERNATIVE PROTEIN SOURCES FOR FOOD
Plant-based Proteins – Vegan Food 
 Hosting Country 2022: Switzerland

-Date: Thursday October 6th, 2022 (A welcome networking aperitif will be organized on Wednesday October 5th, 18h00-20h00)
-Time: 8h30-17h00 
-Venue: Montreux, Switzerland
Registration fees: 390.- € (including, workshop participation, coffee breaks, lunch, aperitif).
Introduction
Eptes Food Flavours Analytical, would like to invite all scientists and the international research community from industries and universities working in the emerging field of alternative source of proteins to participate in this exceptional workshop on flavour composition and sensory impacts. The 2022 workshop is organised in collaboration with The Food Chemistry Research Group of the Zurich University of Applied Sciences.
Workshop Description
For the past few years, many companies and start-ups in the food sector have been working to develop alternative foods to replace farmed meat, dairy, eggs, etc. with other sources of protein. Indeed, this is mainly due to the current strong trend for reducing animal production and consumption.
Today, innovations are emerging in this area of futuristic food, allowing the creation of customized compositions and mimicking the texture of animal meat and dairy products done most of the time using comparative analysis with flavour models of animal proteins and traditional dairy products. The one-day workshop on Flavours and Sensory on Alternative Protein Sources for Food will attempt to explore new developments in terms of flavour characterization, Off-flavours, identification of key aromas, sensory, etc. in plant-based proteins, vegan dairy food, etc.
By bringing together experts and companies specializing in the invention of alternative protein sources to share their achievements in this field, researchers from industry and academia will open the debate on some of the challenges they face in formulation, production and throughout all their value chain.
This unique workshop will bring together scientists from research organizations and the food industry to discuss breakthroughs in analytical methods for the detection of key flavour constituents in different alternative protein matrices and their sensory impact. In addition, the choice of ingredients in relation to the strong market demand for low carbon, healthy and local ingredients will also be briefly discussed.
The main objective of this workshop is to develop and improve the knowledge on flavours & sensory in the field of proteins from plants and vegan food. In addition, compare analytical approaches in flavours analysis and share about sensory breakthroughs with the international community of researchers in this field.
About the Co-organiser of 2022 workshop
The Food Chemistry Research Group of the Zurich University of Applied Sciences is focused on the chemical characterisation of value-determining molecules in food with a special emphasis on flavour-active molecules. For this reason, state-of the art methodologies which combine instrumental analysis and human sensory perception are applied. The comprehensive analysis of the compounds of interest and their precursors along the entire food value chain enables the development of novel food processing methodologies which result in delicious, sustainable and healthy food of tomorrow. 
The Venue
The event will be held in the beautiful town of Montreux, a truly friendly region and town in Switzerland, known for its local gastronomy and architecture, as well as for the exceptional scenery of the lake view.
Download the flyer (PDF)
All participants will receive a certificate of participation.
The Agenda (under construction)
Proposed agenda covers 4 sections: Flavours analysis, identification methods for key aromas, olfactometry techniques, quantification methods, sensory experimental approaches, etc. in different alternative protein sources for food.
Among confirmed speakers: 
Prof. Corinna Dawid, Chair of Food Chemistry and Molecular Sensory Science, TU München
Catrienus de Jong, Senior Scientist Flavour Technology Wageningen University; Food & Biobased Research
Lucie Kendall, R&D Project Manager, M-Industry
Expected participants: Expected participants: 70 persons from CH, EU and international; Food researchers from the academic and industry world, flavour scientists, food production managers, etc.
Join our list of interested clients and get the latest update about our upcoming products