Special Flavours in Wine - Workshop 2023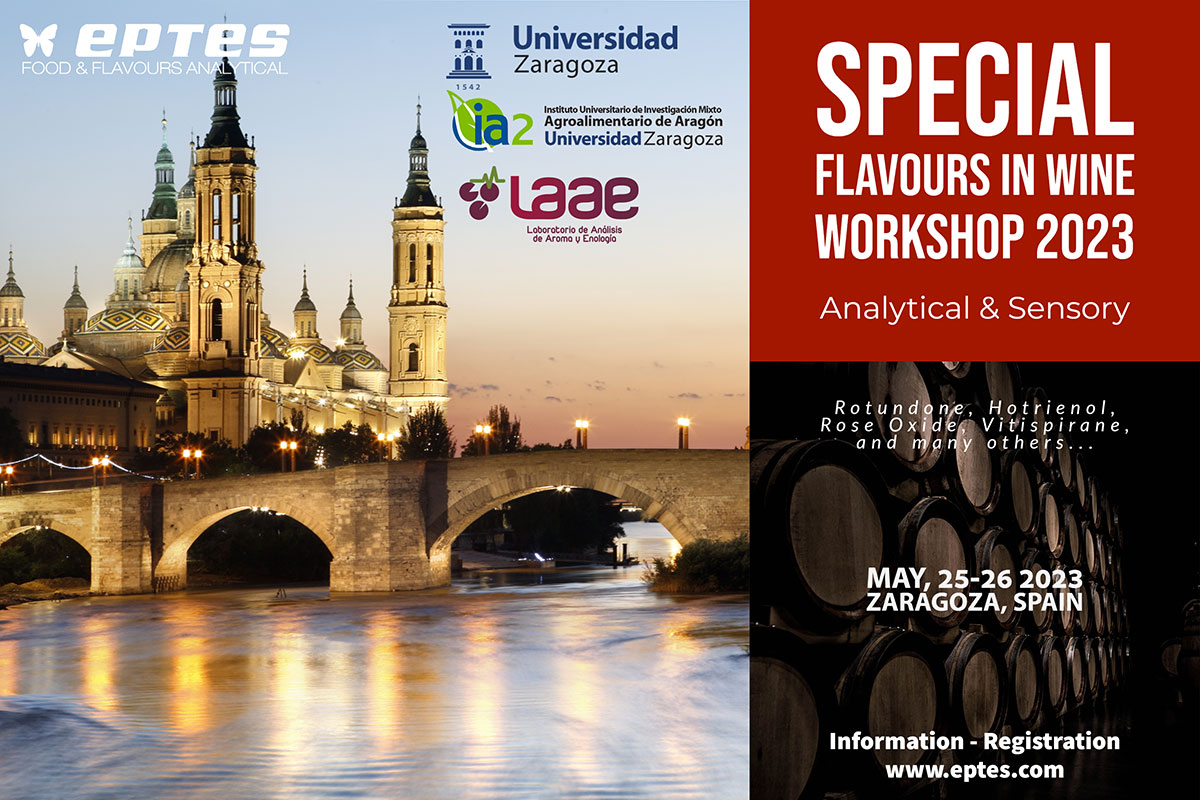 ANALYTICAL & SENSORY
MONITORING SPECIAL FLAVOURS IN WINE 
Rotundone, Hotrienol, Rose Oxide, Vitispirane and many others…..
Hosting Country 2023: Spain
Date: May 25-26, 2023
Venue: ZARAGOZA, SPAIN
Introduction
Eptes Analytical would like to invite all scientists and the international research community working in the field of Enology to attend this exceptional workshop on the analytical aspects and sensory impact of the very particular aromas and special flavours in wine that are yet not sufficiently studied until today and their monitoring in the context of the yearly global temperature and weather change. The hosting organisation for 2023 will be the Flavor Analysis and Enology (LAAE) Laboratory of the University of Zaragoza
Workshop Description
The Special Flavours in Wine Analytical & Sensory 2023 will be organized in Spain in the city of Zaragoza on May 25-26, 2023. This unique workshop will gather scientists from research organizations and from the wine industries to discuss in a first part breakthroughs in analytical methods (GC-MS, GC-O, etc.) for the detection of flavour compounds in different wine varieties and the role of special aroma compounds such as Rotundone, Hotrienol, Rose Oxide, Vitispirane, etc. on the overall wine taste and their relation with the increase of the global temperature. The main objective of this first part is to develop and improve knowledge on special aromas in wine, compare analytical approaches and share sensory results within the international wine research laboratories and industries.
The second part of the workshop will be dedicated to build a common manual of best practises and standard procedures for monitoring yearly flavour profiles of wine varieties in relation to the yearly global temperature change. This second part of the workshop will focus on the creation a strong international cooperation of researchers from industry, academia, and official research laboratories in different countries with a common goal which is to advance research and surveillance of special flavours in wine and their linked to weather & temperature change by region.
The scientific outcome and some abstracts of speakers will be published in the Manual of Special Aromas in Wine 2023 – Analysis and Sensory – published online and distributed  by Eptes (as part of the publication: Legacy for Future Generations).
About the Hosting organisation
The Lab for Flavor Analysis and Enology (LAAE) is a research lab focused on understanding the chemical basis of aroma and taste, especially in the wine industry. In this field LAAE is the most cited laboratory in the world. We also conduct research on other products related with Flavor Chemistry, from truffles to domestic appliances.
Dates of the workshop
The workshop will be held on May 25-26, 2023.
The Venue
The event will be held in the Zaragoza, a nice  region and city in Spain known for its folklore, local gastronomy and architecture.
Workshop details
Duration: 2 days (one day and a half workshop and a half-day activities)
Registration fees: 490€ (including, workshop, coffee breaks, lunches, aperos) 
All participants will receive a certificate of participation.
The Agenda
The agenda will be published and will consist of 3 parts:
1.Analytical methods, instrumentation, identification of special aromas, olfactometry, quantification methods, etc. of special flavours.
2.Sensory analysis, statistical analysis, experimental approaches, etc. of special wine flavours
3.Common manual of best practices for analytical monitoring of the impact of global temperature & weather change on the wine aroma profile in different regions.
Expected participants: maximum 75 persons from EU and international researchers from the official government research institute of wine, researchers from the academic world and industry.
Join our list of interested clients and get the latest update about our upcoming products